You've found the best place to keep updated on new job openings in TOA Global: our Careers page. Is your latest CV ready?
Explore the available roles in Australia, the Philippines, South Africa, and the United States. Read the descriptions and, as soon as you find the role that fits you best,
click on the Apply Now button.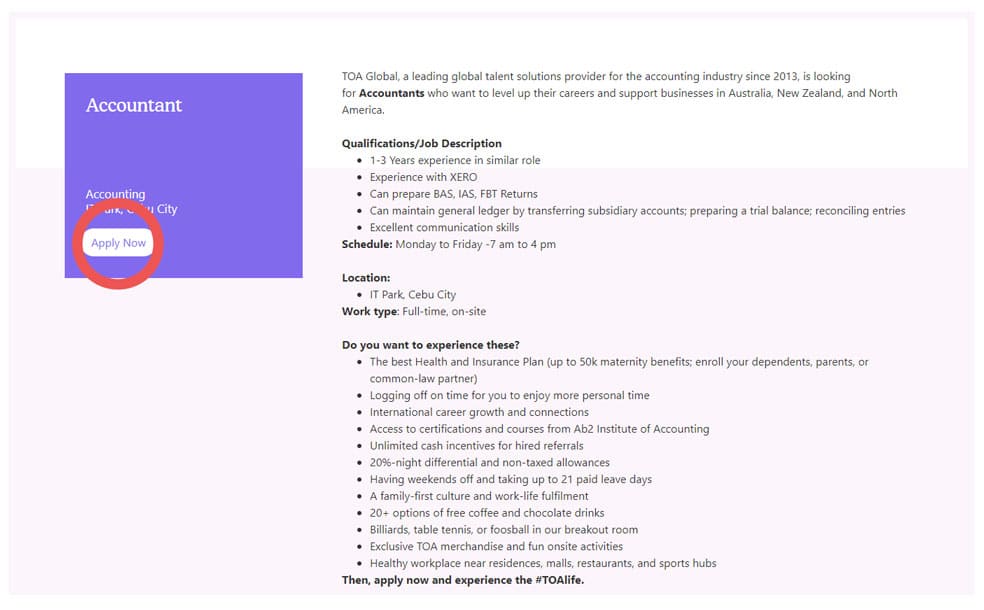 + How long will the application process take?
This can take from 1 to 4 weeks, depending on how soon the interviews with prospective clients can be scheduled.
Expect at least 2 interviews, possibly more. Our Talent team will facilitate your first screening interview, followed by an interview with a prospective client.
For some roles, there will also be a self-recorded video presentation, where you'll get the opportunity to answer some questions. Pro tip: practice by recording videos on Loom or Zoom where you can talk about your career highlights and qualifications.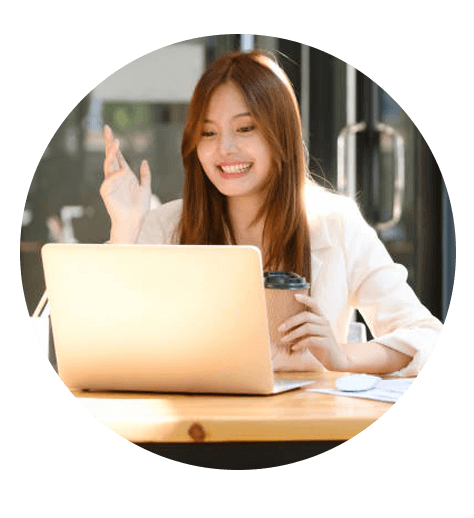 Our current opportunities are all office-based.
While we do have the TOA Global Remote program, which allows team members to work from home with their client's consent, this is available to those who have been with the company for at least 30 months.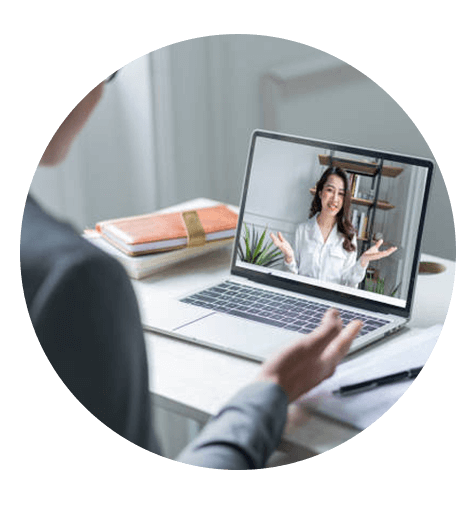 + Where are your offices located?
We currently have offices in the Gold Coast in Australia, Cape Town in South Africa, and Fort Worth, Texas in the United States. We operate in 4 cities in the Philippines, in locations well-served by public transportation services and with easy access to banks, food outlets and supermarkets. Our sites are in: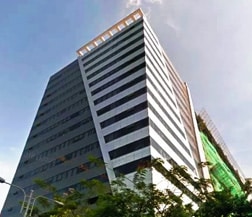 15F Skryise 4B W. Geonzon St., Cebu IT Park Cebu City 6000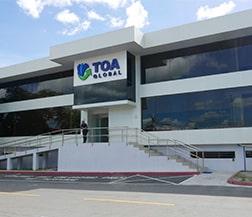 2F BC11,12,14,
Philexcel Business Park,
Clark, Freeport Zone, 2009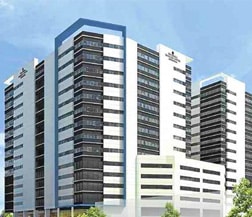 Level 12, Rockwell Business Center, Sheridan St, corner United St, Mandaluyong City, 1554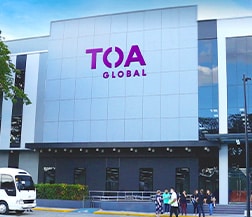 Level 3, Robinson's Luisita Tower 4 McArthur Highway, Barangay San Miguel Tarlac City 2301
+ Do you accept walk-in applicants?
We recommend that you apply online. To do this, click on the job description for the role you're interested in. You'll find the Apply Now button at the bottom. Be ready with your updated CV, which you'll be asked to upload after you click on the Apply Now button.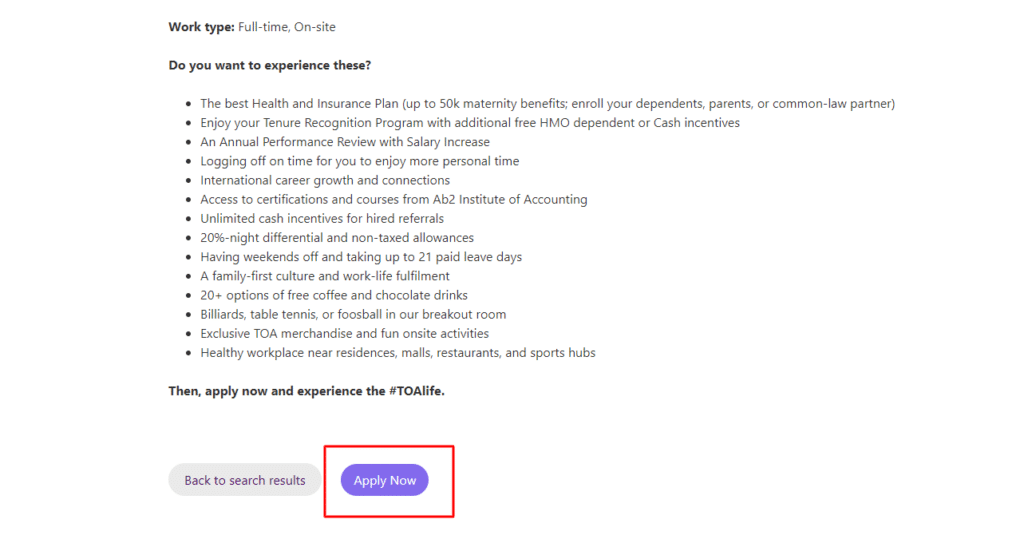 Our recruitment process for roles in the Philippines takes place online for your convenience. For now, the only part of the process that needs to get done in person is the pre-employment medical checkup, which TOA Global will pay for if you have this done in an accredited facility.
+ Do you have career opportunities for those who are neither accountants nor bookkeepers?
Yes. Our clients have also hired Executive Assistants, Customer Relationship Managers, Marketing Associates, Social Media Specialists and Virtual Assistants, among others.
+ Do you hire applicants who have not worked with international clients before?
Yes, we do. If you have at least 2 years of experience working in an accounting role, you can apply for our Accelerator Program. It's a 7-week program that pays you while you get trained in Australian or U.S. accounting standards and practices.  
 
Participants who complete it get placed with an international client. Your international accounting role may just be 7 weeks away.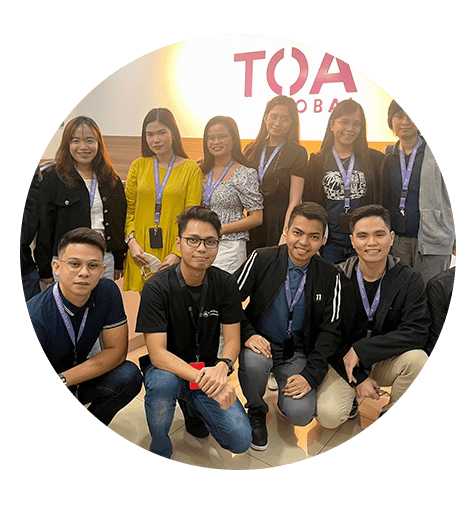 + What benefits will I get once TOA Global hires me?
You won't have to wait for regularization to be protected by a generous HMO plan. After your 6-month probation period, you will also accrue Service Incentive Leave (SIL) credits that will add up to 21 paid days every year. If you work on the night shift, you will gain a 20% differential.
If you're applying for a role in Australia, South Africa, or the United States, please visit these pages to explore our benefits. 
As a TOA Global team member, you will enjoy access to courses and certifications from our award-winning Ab² Institute of Accounting. An Annual Performance Review process supports your professional growth as much as your client's business objectives. You'll get a closer look at our benefits, rewards and engagement program here: Life at TOA Global.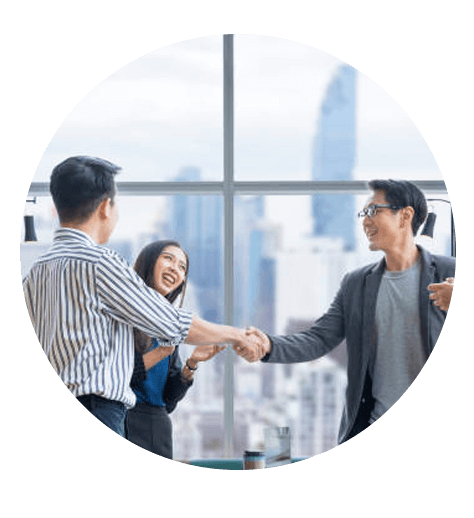 Meeting our applicants' expectations
Glassdoor and JobStreet reviews
An applicant in TOA Global Manila
It was a smooth and fast interview process. The Talent Team is accommodating and made sure all our questions were addressed. The exams and interviews were awesome and thrilling. It was a great experience indeed
An applicant in TOA Global Manila
"The interview process was well organized and recruitment was fast, overall, once it started. The interviewers were very professional and the meetings were scheduled well ahead so I could be sure I would be able to make it."
An applicant in TOA Global Clark
"The interview process was very smooth. The interviewer was direct to the point. She explained things very well. She also told me everything that I could expect if I ever get the job."