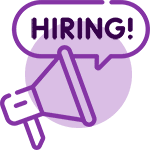 Whether it's a jobs fair, a value-adding webinar or an industry conference, a TOA Global career event is designed to support jobseekers in the accounting, bookkeeping and financial services space.
You'll gain insights from accounting industry leaders and informed advice from our talent team, all drawn from around 10 years of connecting 3,000+ accountants and bookkeepers in the Philippines with more than 1,000 international clients.
Your time is the most valuable resource you can't recover. Be sure to make your networking and learning time count.
Would you like to know about career opportunities in accounting, finance, support or management as soon as they come up?