Seven out of every 10 team members in TOA Global are women.
As part of our Women's Month celebration, we caught up with some accountants and support team members to talk about what it's like to work as a woman in international accounting. We spoke with:
Valerie Ann Catap, who is an accountant and team lead with TOA Global, where she has worked for nearly 9 years.
Paula Patricia Valentin, who works as a Senior Corporate Talent Acquisition Officer and will celebrate her fourth TOA Global anniversary in November 2023.
Kharlyn Lactuan, who has risen from being an Administrative Assistant to an Engagement and Communications Officer in just under 4 years with TOA Global.
Ellaine Macatula, who is an accountant who's also a star player both at work and in a volleyball and table tennis team. She celebrated her first TOA Global work anniversary in January 2023.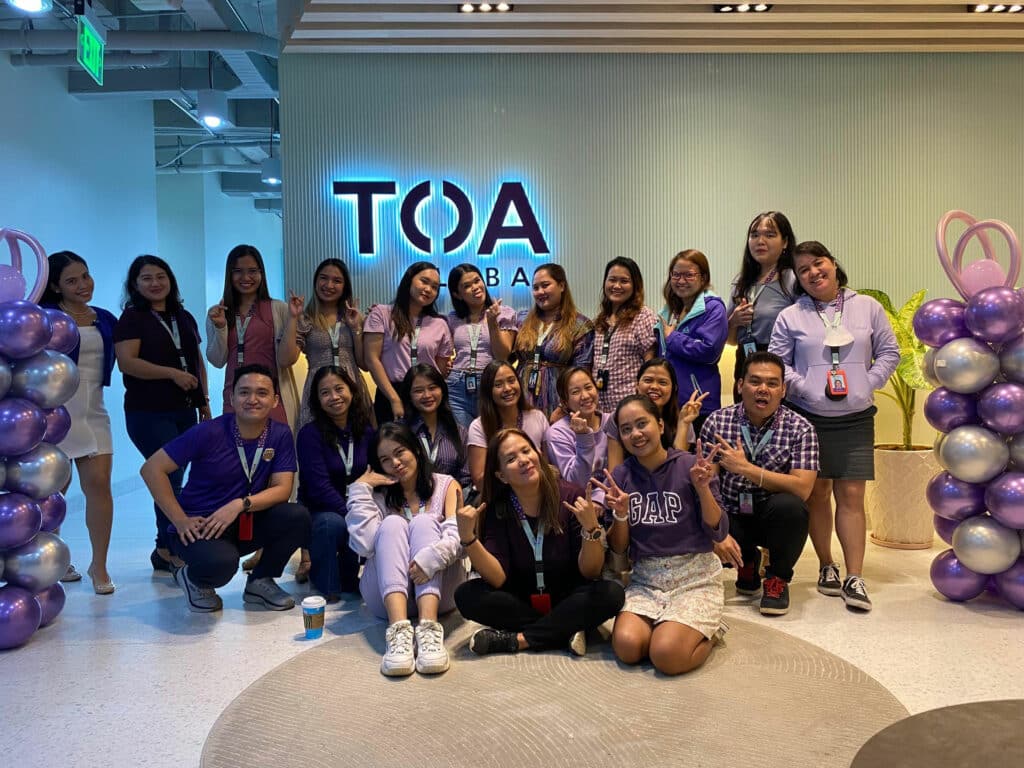 Who or what inspired you to pursue accounting as a career or work in a business dedicated to the accounting industry?
VALERIE: I don't belong to a family of accountants. However, at the time of my transition from secondary to college education, accounting jobs were in high demand. My dream of becoming a banker inspired me to pursue accounting as a career.

PAULA: Aside from my daughter, who motivates me every day, this company's fantastic employees have been a tremendous source of motivation for me.

I continually learn from and am motivated by those around me, whether it be my bright and driven coworkers or the amazing leadership of Shandell (Riley, our General Manager for Talent) and Robert (Stout, our VP for Talent Operations). I connected with the company's goal and ideals, and was inspired by the opportunity that TOA Global provides for everyone.

The idea of contributing to the success of a company was exciting to me and I wanted to be a part of that.

KHARLYN: I was inspired to work in the accounting industry by my mother, brother and grandma, who are working as auditors in the Commission on Audit.
Even though I am not a graduate of Accountancy, because of my family I have a bit of background or knowledge about accounting, and that's why I prefer working in the accounting industry.
ELLAINE: When I first started out, I had no idea what degree I wanted to pursue, until my parents suggested that I try pursuing a career in accounting so I can help them in managing our small business. That's when I figured out that perhaps they want me to carry on what they have started.
A culture of caring and camaraderie
What other roles do you fulfill in your life? How do you balance these with your work-life? Does working in TOA Global help you balance these priorities?
VALERIE: I am a daughter who wishes to give my family a good life. I protect work-life balance by allocating portions of my daily life for work and family life.

Working in TOA Global helps me balance my priorities, for which I am very grateful. They give importance to work-life balance and make it part of our culture.

PAULA: Life is not a race but a learnable journey. And on that journey, we are bound to multitask, doing different activities for various roles in life. I am a parent, a daughter, a sibling, a partner, and an employee…Personal and work-life roles are quite challenging.

Time management is one of the key concepts that can optimize productivity. This encompasses the ideas of spending time wisely, knowing one's priorities, and setting reasonable time limits for each role. This brings clarity around my responsibilities, goals, aspirations, and values.

KHARLYN: Aside from being an employee, I am a student, currently on my second year pursuing a master's degree in Business Administration. I am glad that TOA Global's work schedule helps me manage my studies. After my shift ends at 4 p.m., I have time to study or work on my assignments before going to class by 6 p.m.
The work schedule gives me time to focus on my activities outside work.

ELLAINE: I am a daughter, a sister, a friend and a colleague. I've realized that finding a good work-life balance is easy with the right company. I do not feel like I am obligated to do anything because I enjoy it.

During the week, I make sure to schedule coffee dates with my friends as well as have some me time to take better care of myself. And when at home, I make sure to give my family my undivided attention.
Did you have a female mentor or role model?
VALERIE: The most valuable mentor I can consider is my client. My client pushes me to go further, breaking barriers in pursuing my professional growth.

ELLAINE: My mother. She may not be an accountant but she is well-versed in handling finances, being the one who actively manages our business and, at the same time, keeps in check our family's day-to-day expenses. I am amazed by how juggling different things all at once comes naturally to her.

She would always tell me to be mindful of what I do and to never lose focus, and that failure and missteps are essential to learning. I have always looked up to her; she's amazing. She's just incredible.
Clarifying our roles and priorities
What benefits or working conditions within TOA Global do you value most? Why?
PAULA: Work-life balance. This is very important to me, as a person who has a life outside of work.

I have a young family and need to be able to manage my work and family time in an efficient way, while having a healthy work-life balance. I believe that it's important for employees to have a good balance between their work and personal lives. When employees are able to take breaks and go home on time, they are more productive and engaged.

To help you focus on caring for yourself and your family, TOA Global offers several advantages like health insurance, parental leave, paid vacation days and so much more.

TOA Global has a great team culture that I value immensely, as it allows me to work with others to come up with creative solutions to challenging problems.

KHARLYN: TOA Global promotes very well the concept of work-life balance. I can do a lot of things outside of work. Additionally, I get to learn a lot from my direct head and colleagues. The nature of my work also exposes me to different professionals every day.

ELLAINE: I really appreciate the working environment here. I am at ease doing my job. I love the camaraderie. There is a sense of togetherness at work that is noticeable. Everyone helps each other out. I also love how the management values career growth. Each one of us is given the opportunity and the platform to work on things that will help us excel in our knowledge and experiences further.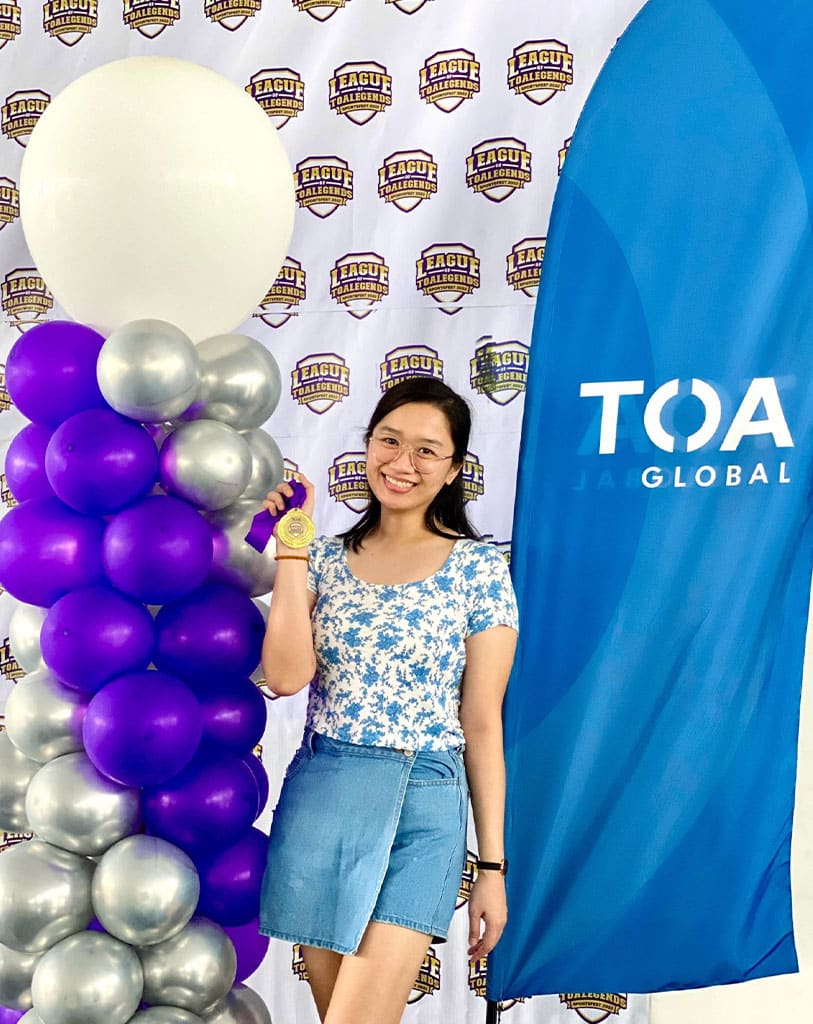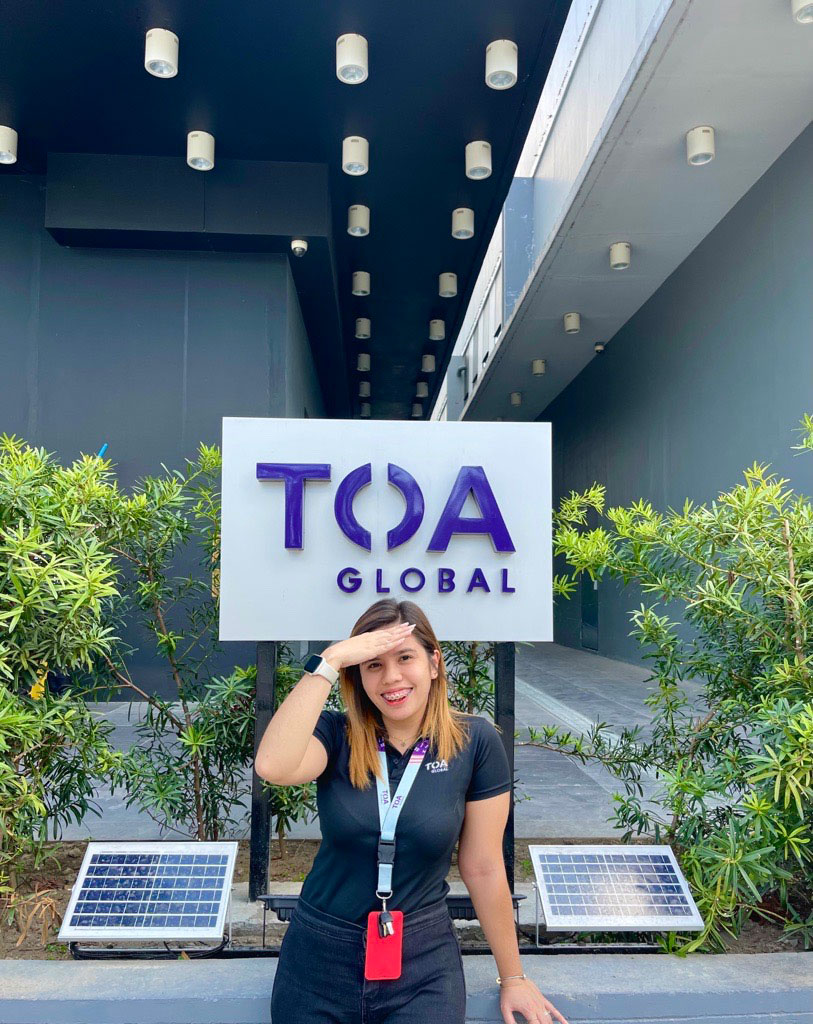 From sports to creative pursuits (like upcycling materials to fashion) and lifelong learning, our team members are encouraged to pursue well-rounded growth. (From top left to right) Ellaine, Kharlyn, Paula and Valerie all nurture interests in addition to their professional development.
Embracing our differences
In your experience, are there key differences between men and women in the workplace?
VALERIE: Men and women are very different creatures, not just in physiological factors, but also in terms of emotions. Women are more emotional in dealing with how we are approached (such as how others talk to or instruct us).
We feel the utmost responsibility for taking care of our family's needs. So, we value work-life balance. Truthfully speaking, this doesn't affect my career, thanks to the culture of work-life balance in the organization.

PAULA: Although conditions men and women face at work are frequently different, there are many features of the job that are advantageous to all sexes.

Women may have more access to helpful resources, more flexible and accommodating schedules, and a greater emphasis on gender equality at work. Also, women may be given more opportunities for leadership development, promotion, and training. Additionally, workplaces might offer more assistance to mothers who are breastfeeding, as well as childcare options for working mothers.

Men might have more opportunities for mentorship, professional development, and career advancement, on the other hand, as well as higher pay rates.
KHARLYN: In the accounting industry, women are underrepresented in senior positions. Some might have a hard time juggling work and family obligations, which could hinder their job growth.

It's important to acknowledge and address these differences to promote diversity, equity, and inclusion in the workplace.
ELLAINE: Regardless of what industry or profession women choose, pursuing a career in a male-dominated field is a significant step up for women. Men used to dominate offices, but as we show the world that we are capable of doing just as much, perhaps even more, than males, women are breaking gender inequalities.

It's not a question of which gender is more capable; rather, it's a question of how we may each inspire others to go beyond their limits and accomplish more in their fields.
Growing outside our comfort zones
What advice would you give to women who are just starting their accounting careers?
VALERIE: Do your best. Be the person you wish to be. If you don't get to where you want to be, look for other perspectives.
ELLAINE: I would advise young women to venture outside of their comfort zone. It can be intimidating to step outside of your routine, yet doing so is important to your growth. You build resilience, develop confidence, and learn different skills when you push yourself to accomplish things you're not used to.
About TOA Global
Since 2013, we've helped more than 3,600 accountants, bookkeepers and other professionals launch their careers and grow within global teams in more than 1,000 accounting firms.

If you want to join a workplace that can help you unlock your potential, explore our career opportunities here.
*As of January 2023
**Some responses have been edited for brevity.